Grand Rapids Raccoon Control
Keeping Michigan Homes & Businesses Wildlife-Free Since 1996
Raccoon are very adaptable and learn very quickly. These masked opportunists can be very destructive - opening or knocking over improperly covered trash, and are masters at breaking & entering, finding your property's vulnerabilities. Raccoons are omnivores, eating both meat and vegetation. In the wild they eat crayfish, frogs, other aquatic creatures, mice, insects, eggs, fruits, and plants. But because of their opportunistic nature they will raid gardens, crop fields, animal feed stores, pet food, garbage containers, and even your kitchen! Our Michigan wildlife control experts at Varmint Evictors, Inc. can safely remove these rummaging critters from your home or business. We are a local, and family-owned business, committed to keeping our neighbors safe from wandering wildlife, and work hard to not only remove critters like raccoons, but also, keep these creatures from returning.
Call our team today at (989) 268-7666 or contact us online to schedule your Grand Rapids raccoon removal service.
Raccoon Removal Requires an Experienced Hand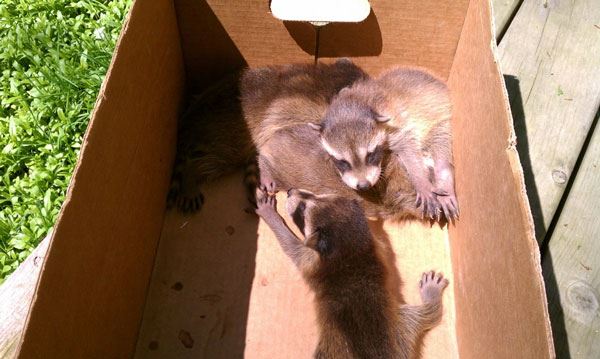 Raccoons are usually skittish but if cornered, can be very dangerous. Although they are cute, raccoons can be ferocious and carriers of rabies, so never allow your pet to go after a raccoon. With over 24 years of experience eradicating wildlife throughout Central Michigan, our Grand Rapids raccoon control team at Varmint Evictors, Inc. has the practical know-how to deal with these clever creatures in ways that keep your family, home, and the animal safe. Whether you've heard some scratching in the attic, or you've seen a raccoon family in your space, we have the skills and tools to thoroughly inspect your property, come up with a high-quality plan, and quickly and effectively remove the creatures.
Species of Raccoon Found in Michigan
Raccoons usually have only one gestation period a year of around 63 days. They give birth to an average of 4 kits around April-May and the young leave their nest about 7 to 8 weeks later.
Types of raccoons in Michigan include:
Eastern Raccoon: Relatively small, dark raccoon with long soft fur. Their masks are surrounded by bold off-white lines.
Upper Mississippi Valley Raccoon: Large Raccoon with a buff thick coat, excellent for winter. These raccoons have a large territorial range often over 6 miles.
For Grand Rapids raccoon removal services that are second to none, call our team today at (989) 268-7666 or contact us online.
Ready to be Varmint Free?
Don't let unwelcome wildlife visitors make a home in your property. Call Varmint Evictors, Inc. at (989) 268-7666 or fill out our online form to get in touch!
Call the Professionals
Wave Goodbye to Varmints
Up-to-Date In Our Trade
Customer Care Focused
Family Owned & Operated
Licensed & Insured
Educated & Highly Trained
Controlling Wildlife Damage Since 1996
Let's Get Rid Of Those Varmints!
Fill out the form below or call us at (989) 268-7666 for immediate attention!