Grand Rapids Bat Removal
Trustworthy Bat Pest Control in Central Michigan
Bats have had a bad reputation for many centuries in many cultures. Movies and TV shows represent them as bloodthirsty vampires. And while, in reality, these descriptions are completely false, bats are still not animals that you want living in your home. Like any other wild creature, bats need to live in their natural habitat, or they can cause a lot of damage to your home and health.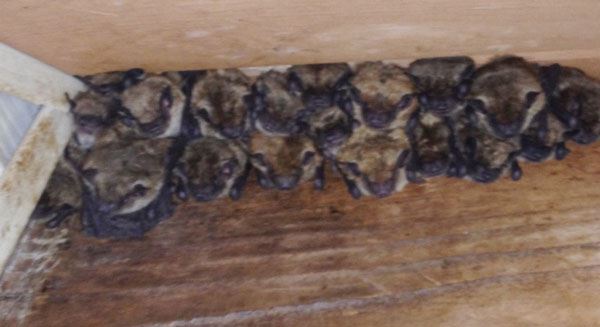 If you are looking for bat control in Grand Rapids, MI, our experts can safely control and remove these animals from your property. All of our Michigan team members at Varmint Evictors, Inc, have been specially trained to accomplish this in a humane way that supports the ecosystem, while simultaneously saving your home in the process.
---
Call our Grand Rapids, MI bat removal experts now at (989) 268-7666so that we can keep the bats out of your belfry, and out of the rest of your house too.
---
Ready to be Varmint Free?
Don't let unwelcome wildlife visitors make a home in your property. Call Varmint Evictors, Inc. at (989) 268-7666 or fill out our online form to get in touch!

Since much of our thinking about bats is influenced by TV and movies, most assumptions we have about these nocturnal creatures aren't true. They are neither rodents nor birds, and they actually aren't blind. Most bats do not suck blood, nor are they swarming with rabies. In fact, bats are crucial in protecting ecosystems all around the world, from deserts to rain forests, because they eat insects, particularly agricultural pests.
Despite their benefits, bats can also cause problems for property owners. Older commercial buildings and homes, especially those in need of repair, are vulnerable to bat populations. However, new homes can suffer from bat problems as well.
A few problems that bats cause include:
Bat droppings or guano – Feces from bats can transport fungi that cause Cryptococcus and Histoplasmosis, hazardous to human health.
Bat odor and stains – Urine from bats emit a potent, unpleasant odor that soaks into the structure of your Michigan home. Urine also leaves stains that are difficult to remove.
Bat bugs – Bats, unfortunately, often carry parasites that resemble bed bugs. Bat bugs have painful, itchy bites and are challenging to completely remove from homes.

What Attracts Bats to Your Home?
Bats are attracted to homes that provide warm, dark places to roost, such as roofs, attics, and eaves. They are also attracted to homes with standing pools of water and food sources near them, like overripe fruit trees or insects.
When do bats Hibernate in Michigan?
According to Michigan.gov, bats hibernate during the colder months. They tend to begin hibernation at the start of fall, around September and end in November. Many animals use the colder months to hibernate, just need to make sure they have enough food to last during this time period.
Are Bats Protected in Michigan?
Because many local bat populations have been destroyed and now entire species are endangered, bats are protected in Michigan. We must protect these unique mammals by learning more about their lives and interacting safely with them. In the state of Michigan, qualified Grand Rapids bat removal experts are the only people who can remove these protected species safely and humanely. At Varmint Evictors, Inc., we not only remove the bats currently shacking up in your home, but also use methods of exclusion to prevent bats from returning.
Is it Legal To Kill Bats in Michigan?
Do not kill bats, it is illegal and inhumane. Bats are federally protected animals and are on the endangered species list. Bats also help prevent the spread of various diseases that impact humans, such as the West Nile virus. Please leave all bat removal to qualified pest control professionals.
---
Contact our Grand Rapids bat removal experts now at (989) 268-7666 to make your home bat-free in a safe and humane way today.
---
Take a look at our Michigan Varmint Services:
Let's Make Your Space Varmint Free!
Fill out the contact form below and we'll reach out shortly.
WHY WORK
WITH US?
Customer Care Focused

Family Owned & Operated

Licensed & Insured

Educated & Highly Trained