Grand Rapids Opossum Control
Removing Opossums From Michigan Homes and Businesses
In the United States, opossums are typically referred to as simply possums. These solitary and nocturnal animals, which are about the size of a domestic cat, can wreak havoc on your property Opossums are
the definition of an opportunists, who will raid animal feed stores, garbage, gardens, and even venture into your home in search of food.. Don't let your home or business fall prey to an unwelcome invader. At Varmint Evictors, Inc., our local Michigan business has over 30 years of wildlife removal experience and can help you with your wildlife issues, no matter how big or small. We offer all customers quick and safe removal, preventative solutions, and repair services – so your property is critter-free and back to pristine in no time.
---
Contact us online or call our skilled Grand Rapids opossum control experts today at (989) 268-7666.
Opossum Experts with Decades of Service
Opossums are omnivores who seek out bug, insects, eggs, plants and fruits. And while they are also skilled climbers, opossums cannot run very fast, so they often resort to "playing possum" (playing dead) if they feel they cannot out run what is threatening them. However, if this marsupial feels threatened, they will stand their ground and fight, making them very dangerous, not because of the bite, but because of the potential exposure to the fleas, mites, ticks, or lice they carry, or the animal's urine or droppings.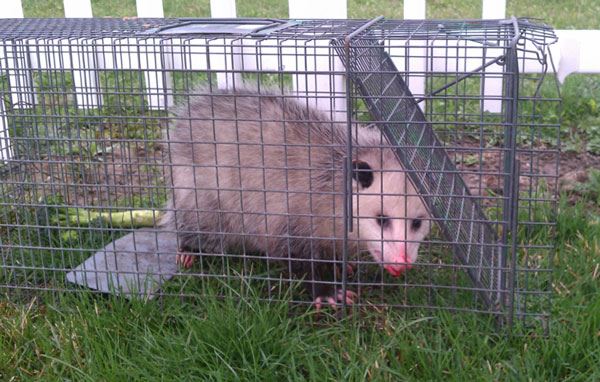 This exposure can spread Chagas disease, toxoplasmosis, leptospirosis, and more.The Virginia Opossum, also known as North American Opossum, is the only marsupial found in the U.S. and is easily recognizable by their white faces, with darkening on their ears, hands, and feet, and a hairless tail and lower fingers. Opossums will have litters of young as early as December and have 2 to 3 litters per year with an average around 8 to 9 joeys per litter. Opossums are not native to North American but were introduced in the 1920s. Since then they have been expanding their territory and are seen as far north as Toronto. Opossums do not handle cold weather very well as frost bite is frequently reported among Opossums in colder areas. It is for this reason that during the winter Opossums seek shelter in and under barns and outbuildings.
If you are worried your home or business has been harboring adult opossums or their litters, call our experts today. Our Grand Rapids opossum control technicians are highly trained and continue to grow our industry knowledge, so you are sure your property receives the most effective and top of the line services on the market. We understand how quickly wildlife problems can escalate, so we work quickly, often offering same-day appointments.
With decades of service under our belts, we are keenly aware of how to protect both your property and the animals we are removing. Don't let a less experienced hand tackle your wildlife problem, call our Grand Rapids opossum removal pros today at (989) 268-7666 or contact us online.
Ready to be Varmint Free?
Don't let unwelcome wildlife visitors make a home in your property. Call Varmint Evictors, Inc. at (989) 268-7666 or fill out our online form to get in touch!
Call the Professionals
Wave Goodbye to Varmints
Up-to-Date In Our Trade
Customer Care Focused
Family Owned & Operated
Licensed & Insured
Educated & Highly Trained
Controlling Wildlife Damage Since 1996
Let's Get Rid Of Those Varmints!
Fill out the form below or call us at (989) 268-7666 for immediate attention!