Grand Rapids Groundhog Control
Managing Woodchuck Infestations in Central MI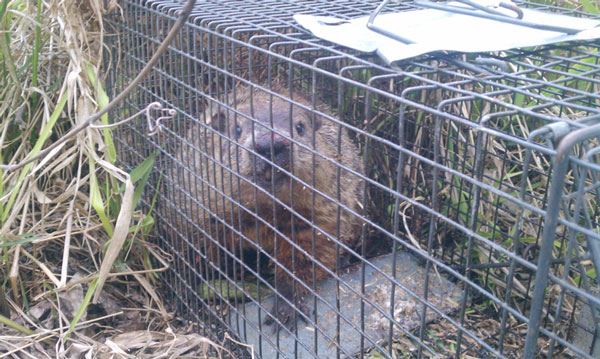 Whether you call them groundhogs, woodchucks, whistlepigs, or land beavers, it is indisputable that this animal is known for their digging abilities – leaving holes and burrows in their wake. These holes can destroy your lawn and garden including vegetables and some wild grasses. Groundhog burrow openings can create dangerous tripping hazards when walking, playing, or working in your yard for you, your pets or livestock, particularly horses. In some cases, groundhog burrowing has been known to undermine foundations, driveways, and roadways which can result in severe damage. While a hole here and there might not immediately be a cause for concern, you could potentially be dealing with a full-blown groundhog infestation.
Our wildlife control experts at Varmint Evictors, Inc. have the training and tools to effectively and safely remove groundhogs from your Grand Rapids residential and commercial property. We service a wide area in Central Michigan, and we are proud to offer our customers same-day appointments, so you never have to wait for your much-needed removal.
Call our team at (989) 268-7666 to schedule an in-person Grand Rapids groundhog inspection.
Solving Even Your Toughest Groundhog Problems
Groundhogs are members of the rodent family, belonging to a group of large ground squirrels. They dig 1 to 4 burrows a year and abandoned burrows provide great nesting for other wildlife such as skunks, rabbits, foxes, raccoons and even other groundhogs. If allowed to stay the cold winter months, come spring they are already settled and ready to raise a new family.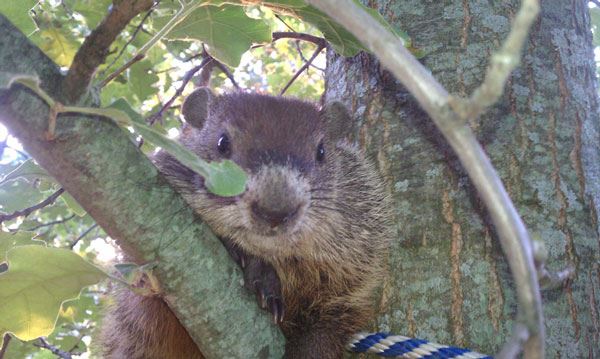 Woodchucks gestation period is around 31-32 days. They give birth to an average of 2 to 6 babies sometime around April-May. The young leave the nest about 4 weeks after birth. Groundhogs are usually skittish but will attack if cornered. Despite their relatively small size, if these critters are infected, they can transmit diseases via their bite like hepatitis and rabies. At Varmint Evictors, Inc., our Grand Rapids groundhog control pros understand how unnerving it can be to have these rodents under your home, which is why we work hard to provide removal services as quickly as possible. We even offer home and business owners preventative maintenance plans to keep your property free from groundhogs – and other wildlife.
From groundhogs to birds, bats, and squirrels, our experienced team at Varmint Evictors, Inc. has you covered. Call us today at (989) 268-7666 or contact us online to schedule an appointment for groundhog removal in Grand Rapids.
Ready to be Varmint Free?
Don't let unwelcome wildlife visitors make a home in your property. Call Varmint Evictors, Inc. at (989) 268-7666 or fill out our online form to get in touch!
Call the Professionals
Wave Goodbye to Varmints
Up-to-Date In Our Trade
Customer Care Focused
Family Owned & Operated
Licensed & Insured
Educated & Highly Trained
Controlling Wildlife Damage Since 1996
Let's Get Rid Of Those Varmints!
Fill out the form below or call us at (989) 268-7666 for immediate attention!