About Us
Safely & Effectively Evicting Varmints Since 1996
Varmint Evictors, Inc. is a wildlife control and removal company servicing homeowners and businesses in Grand Rapids and throughout Michigan. Our highly skilled professionals love solving animal problems and are committed to doing so with the safest and most effective methods. No matter what type of varmint has decided to take up residence on your property, we're here to address the problem immediately and effectively.
Our Grand Rapids animal removal experts handle a variety of varmints, including: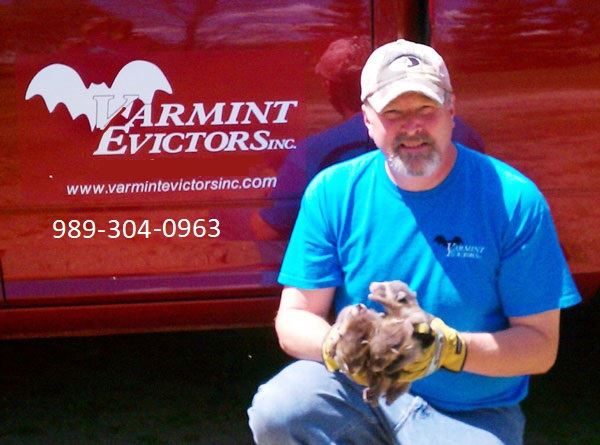 Whether your unwelcome pests are in your attic, crawlspace, basement, walls, or any other dark, tight spaces, we have the expertise and tools to locate, capture, and remove them. Our methods for trapping animals are safe and ethical.
The moment you suspect an issue, don't hesitate to call Varmint Evictors, Inc. at (989) 268-7666.
What Sets Us Apart
Nuisance animals come in all shapes and sizes, and so do wildlife removal companies. Varmint Evictors, Inc. is a small family-owned company that is committed to the utmost professionalism – while being courteous and friendly to all our customers. The reason people turn to us time and time again is because they know they can count on receiving the highest level of service from a team of experts that truly cares about them. We love getting to know our customers and building a relationship with them. That's one of the benefits of being able to work with the same technicians on every service call.
There are several things about our company that distinguishes us from other wildlife control companies in Michigan, including:
We have over 24 years of animal and wildlife control experience
We specialize in providing safe and effective removal services for bats
We use the proper equipment and techniques for each unique varmint situation
We are state-licensed, certified, and insured
We are a member of the National Wildlife Control Operators Association
We use only safe animal removal methods
We never use dangerous poisons or chemicals that could put you at risk
We stay up to date on the latest wildlife control and removal techniques and tools
We are a certified installer of Ridge-Guard, a system designed to protect against animal entry at the roof ridge
We can restore order to your property with our damage repair and cleanup services
We treat our customers the way we would want to be treated
We Are the Way to Be Problem-Free
If you desire to be rid of your nuisance wildlife problem, turn to Varmint Evictors, Inc. for the best possible solution. We have what you need to be back to being worry-free in no time. After we quickly and adequately resolve your issue, you'll know why we're known as "The peacemakers between man and beast!"
Contact our Grand Rapids wildlife and bat removal specialists today at (989) 268-7666 to schedule your inspection.
Regain Your Comfort
3 Easy Steps for a Nuisance Free Space
Keeping You Informed
Knowledge Is Power