Varmint Damage Repair & Clean Up in Grand Rapids
We Can Help Restore Order to Your Central Michigan Property!
Animals and humans alike deserve to have comfortable homes, undisturbed by unwelcome visitors who leave unpleasant messes and destruction in their wake. If you have any need for damage repair and clean up in Michigan, do not hesitate to contact our team at Varmint Evictors, Inc.! It is our job to not only safely separate natural critters from human environments, but completely restore your home to its original glory.
Call our Grand Rapids wildlife damage repair team today at (989) 268-7666 so we can make sure all of the wild gets returned to the wild, leaving you in domesticated tranquility.
Types of Wildlife Damage Repair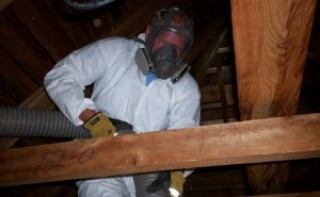 There are a number of types of repairs that you must consider when completely restoring your home to its original state, prior to any unexpected guests. Many of these areas of damage can be quite costly if any mistakes are made, which is why it is important to consult one of our licensed experts. We have over 24 years of experience protecting and restoring properties affected by wildlife, and our skilled and experienced Grand Rapids wildlife damage team is on-call to help your property shine.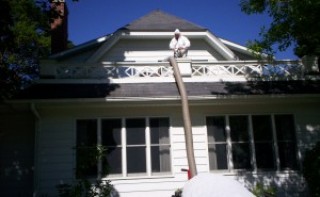 Some of the most common types of repair that our Michigan clients desire include:
Repairing a hole in the basement or walls – If you notice a hole in your wall or floorboards, you need to remember these holes must be repaired with special care. If this damage isn't fixed correctly, animals will be able to return in the future. Sometimes our technicians use filler products, or even replace several bricks, to close off the entrance. Our skilled Grand Rapids wildlife damage repair technicians will seal off both the interior and exterior of the entry to ensure that your home is doubly safe.
Fixing wall and foundation damage – Aside from holes, varmints can also greatly affect the entire infrastructure of your home's foundations. Smaller crevice and cracks can easily be repaired through metal-backed patches or added drywall. Then we can make sure this empty space is painted with drywall compound that will match perfectly.
Restoring your chimney or flue– Commonly, the part of your chimney that will face the most issues is the chimney top. This is the primary access point for wildlife to enter your home. To repair this section of your Central Michigan home, you will likely need to have an entire chimney cap installed, preferably with stainless steel, since this is the most durable and toughest metal available for your chimney needs.
Certified Critter Clean-up Throughout Grand Rapids & Central MI
Once you have gotten rid of the varmints that have ransacked your home, it is time to set on the path to complete restoration. Do not be overwhelmed by the thought of cleaning droppings, fur, twigs, and urine. When it comes to damage repair and clean up in Central Michigan, our certified specialists will not leave you on your own.
Contact Varmint Evictors, Inc. now at (989) 268-7666 so we can help you restore your Grand Rapids home to its natural habitat.
Ready to be Varmint Free?
Don't let unwelcome wildlife visitors make a home in your property. Call Varmint Evictors, Inc. at (989) 268-7666 or fill out our online form to get in touch!
Certifications
We Proudly Hold
Call the Professionals
Wave Goodbye to Varmints
Up-to-Date In Our Trade
Customer Care Focused
Family Owned & Operated
Licensed & Insured
Educated & Highly Trained
Controlling Wildlife Damage Since 1996
Sign Up for Our Maintenance Plans!
While we specialize in the removal of all types of varmints, we like helping individuals stop wildlife nuisance problems before
Let's Make Your Space Varmint Free!
Fill out the contact form below and we'll reach out shortly.
WHY WORK
WITH US?
Customer Care Focused

Family Owned & Operated

Licensed & Insured

Educated & Highly Trained